You are here
Carrots, Shredded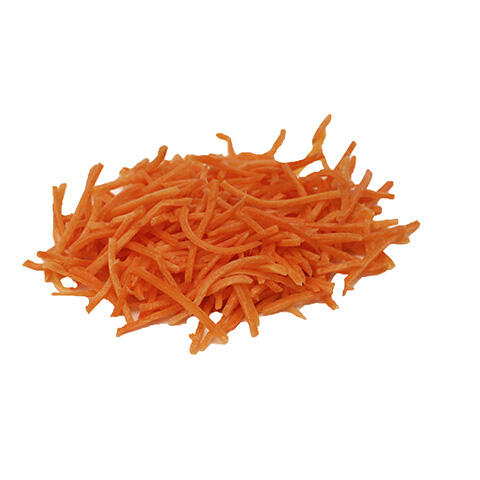 Ready-Set-Serve (RSS) Shredded Carrots are packed in a breathable bag, resulting in a long shelf life; 100% usable product.

Available Offerings from Markon for Carrots, Shredded
| Description | Net Weight | Pack | GTIN | UPC |
| --- | --- | --- | --- | --- |
| Carrots, Shredded, 1/16" | 10 pounds or 5 kilograms | 2/5# | 1 06 11628 91655 9 | 6 11628 91655 2 |
Storage Tips:
Refrigerate immediately--never break the cold chain; rotate on the FIFO basis.
Handling Tips:
Store away from ethylene-producing items (apples, avocados, cantaloupe, pears, and tomatoes) and foods with strong odors. This product is table ready and does not need to be rinsed.
General Usage Ideas
Toss together poached and shredded chicken, RSS Shredded Cabbage, RSS Shredded Carrots, grated MFC Granny Smith Apples, RSS Washed & Trimmed Cilantro, minced jalapeno chile peppers, chopped radishes, RSS Lime Juice, mint, basil, fish sauce, sesame oil, and rice wine vinegar; serve salad in RSS Lettuce Jammers
Fill RSS Lettuce Jammers with hummus (made with garbanzo beans, tahini, RSS Peeled Garlic, RSS Lemon Juice, and olive oil); top with RSS Shredded Carrots and chopped MFC Cucumbers
Sauté RSS Triple-Washed Spinach, RSS Shredded Carrots, and RSS Peeled Garlic; wrap mixture in flank steak; grill
Fall / Winter Usage Ideas:
Mix RSS Shredded Carrots, MFC Zucchini, MFC Potatoes, RSS Diced Onions, matzoh meal, and eggs; patty and fry
Stir together RSS Shredded Carrots, dried cranberries, plain yogurt, RSS Lemon Juice, and chopped snipped chives; serve salad with burgers and paninis
Add RSS Shredded Carrots to cupcake batter accented with cinnamon and ginger; bake and ice with cream cheese frosting; garnish with the zest of MFC Oranges
Spring / Summer Usage Ideas:
Add RSS Shredded Carrots to ginger-soy dressing; shake well and drizzle over RSS Spring Mix
Top miso soup with RSS Shredded Carrots and chopped RSS Washed & Trimmed Green Onions
For added color, add RSS Shredded Carrots to broccoli slaw
Did You Know?
Carrots belong to the parsley family.