You are here
Carrots, Matchsticks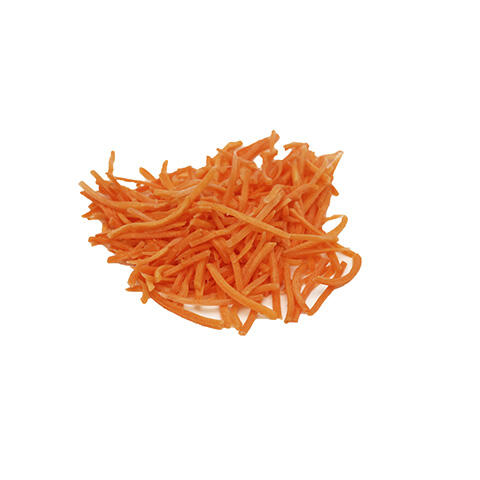 Ready-Set-Serve (RSS) Matchstick Carrots are packed in a breathable bag, resulting in a long shelf life; 100% usable product.

Available Offerings from Markon for Carrots, Matchsticks
| Description | Net Weight | Pack | GTIN | UPC |
| --- | --- | --- | --- | --- |
| Carrots, Matchsticks | 3 pounds or 1 kilograms | 2/3# | 1 06 11628 91647 4 | 6 11628 91647 7 |
| Carrots, Matchsticks | 10 pounds or 5 kilograms | 2/5# | 1 06 11628 95030 0 | 6 11628 95030 3 |
Storage Tips:
Refrigerate immediately--never break the cold chain; rotate on the FIFO basis.
Handling Tips:
Store away from ethylene-producing items (apples, avocados, cantaloupe, pears, and tomatoes) and foods with strong odors. This product is table ready and does not need to be rinsed.
General Usage Ideas
Serve RSS Matchstick Carrots, RSS Broccoli and Cauliflower Combo, and halved MFC Baby Squash with dips such as hummus, spinach and cheese, or roasted red bell pepper mayonnaise
Sauté boiled RSS Matchstick Carrots in butter and sugar until slightly caramelized; add grainy brown mustard and cook until tender; serve with steak
Stir RSS Matchstick Carrots into creamy risotto along with English peas, fresh basil, and Grana Padano cheese
Fall / Winter Usage Ideas:
Sauté RSS Sliced Onions, RSS Matchstick Carrots, chopped MFC Zucchini, Italian parsley and basil; add touch of cream and grated Asiago cheese; serve over fettuccine or as a steak side
Stir-fry RSS Matchstick Carrots with raisins and almonds; deglaze with balsamic vinegar and serve with roasted meats
Layer goat cheese, pickled RSS Matchstick Carrots, and tapenade on pumpernickel bread; serve sliced sandwiches on buffet tables
Spring / Summer Usage Ideas:
Wrap strips of MFC Cucumbers, RSS Matchstick Carrots, sliced shrimp, cooked rice vermicelli, MFC Green Leaf Lettuce, basil, mint, and RSS Washed & Trimmed Cilantro in rice paper wrappers; serve rolls with spicy peanut sauce
Fill parchment packets with halibut, RSS Matchstick Carrots, shaved fennel, chopped cherry tomatoes, sliced MFC Lemons, slivered RSS Peeled Garlic, baby dill, and a drizzle of olive oil; bake until fish is cooked and vegetables are tender
Mix RSS Chopped Romaine, RSS Shredded Cabbage, RSS Matchstick Carrots, and jicama; drizzle with vinaigrette made with RSS Lime Juice
Did You Know?
Carrots belong to the parsley family.