You are here
Basil, Opal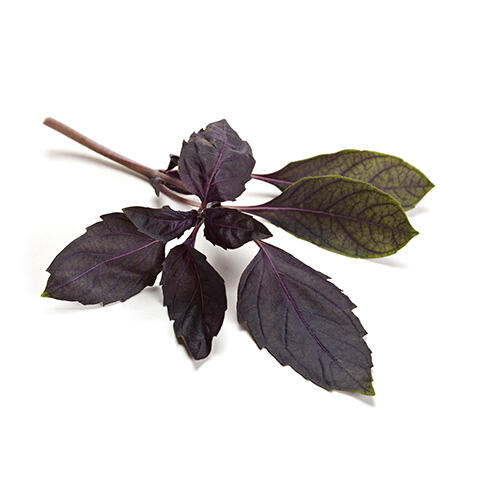 Markon First Crop (MFC) Opal Basil's aromatic clove and anise-like flavors spice up meals for pennies per plate.

Available Offerings from Markon for Basil, Opal
| Description | Net Weight | Pack | GTIN | UPC |
| --- | --- | --- | --- | --- |
| Basil, Opal | 1 pounds or .45 kilograms | 1 LB | 0 06 11628 91510 4 | 6 11628 91510 4 |
| Basil, Opal | .50 pounds or .23 kilograms | .50 LB | 0 06 11628 91520 3 | 6 11628 91520 3 |
| Basil, Opal | .25 pounds or .12 kilograms | .25 LB | 0 06 11628 91530 2 | 6 11628 91530 2 |
Storage Tips:
Keep in original containers; store at proper temperatures; keep away from ethylene producing items.
Handling Tips:
Handle as little as possible to reduce bruising and premature spoilage; do not wash until ready to use. Rinse whole fruits and vegetables in clean running water prior to using.
General Usage Ideas
Add opal basil, English peas, sliced MFC Potatoes, MFC Green Bell Peppers, and RSS Sliced Onions to green curry sauce; serve over jasmine rice
Stir-fry chicken, purple snow peas, RSS Sliced Red Onions, opal basil, and fresh red Thai chiles; add soy sauce, fish sauce, and cornstarch; serve over rice with torn opal basil leaves
Toss sliced peaches and raspberries with torn opal basil leaves; top with a dollop of ginger-scented whipped cream
Fall / Winter Usage Ideas:
Mix together smoked, chopped chicken, sun-dried tomatoes, opal basil, and mayonnaise; serve on crostini with black olive pesto
Heat RSS Sliced Onions, RSS Peeled Garlic, ginger, and lemongrass in peanut oil; add thinly sliced beef and RSS Broccoli Florets; deglaze with soy sauce and fish sauce; add opal basil leaves and sesame seeds; serve with jasmine rice
Simmer RSS Lime Juice, sugar, and opal basil; when thickened, place in an ice cream maker and freeze; serve with lime zest and opal basil leaves
Spring / Summer Usage Ideas:
Toss chopped MFC Tomatoes, RSS Diced Red Onions, corn kernels, opal basil, and minced RSS Peeled Garlic with balsamic vinaigrette
Soak thick slices of green tomato in buttermilk, sugar, and opal basil; drain, bread with panko (Japanese breadcrumbs); fry until crisp; serve with opal basil mayonnaise
Stir together passion fruit purée and plain gelatin; when set, cut into squares and top with heavy cream whipped with sugar and opal basil
Did You Know?
Herbs are one of the oldest agricultural products. Egyptian records from as early as 2800 B.C. mention their role in food, medicine, cosmetics, perfumes, dyes and magic.