You are here
Salad, Spring Mix, Sweet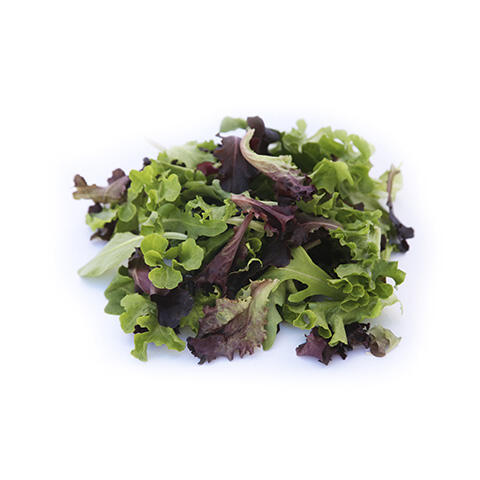 Ready-Set-Serve (RSS) Sweet Spring Mix offers 100% usable product, fixed weight and yield, no preservatives, and sensible pack sizes.

Available Offerings from Markon for Salad, Spring Mix, Sweet
| Description | Net Weight | Pack | GTIN | UPC |
| --- | --- | --- | --- | --- |
| Salad, Spring Mix, Sweet | pounds or kilograms | 3 LB | 0 06 11628 92245 4 | 6 11628 92245 4 |
Storage Tips:
Refrigerate immediately upon arrival; store at high humidity with adequate circulation.
Handling Tips:
Reseal unused portion in original bag. This product is table ready and does not need to be rinsed.
General Usage Ideas
Mix RSS Spring Mix with apricots and pistachios; drizzle with crème fraiche dressing made with mint and tarragon
Toss RSS Spring Mix with thick slices of sautéed MFC portabella Mushrooms, Parmesan croutons and creamy garlic dressing
Mix RSS Spring Mix with pepper-seared ahi tuna, roasted MFC Red Bell Peppers, sliced MFC Cucumbers, and snipped chives; top with creamy wasabi dressing
Fall / Winter Usage Ideas:
Marinate bite-size tofu squares in a soy-ginger-garlic mixture; roast until browned; toss with RSS Spring Mix and shaved MFC Cucumbers, and miso dressing
Roast acorn squash with butter and brown sugar; slice and toss with RSS Spring Mix and shredded duck confit; dress with cranberry vinaigrette
Mix together RSS Spring Mix, roasted beets, and chopped MFC Red Delicious Apples; drizzle with blue cheese vinaigrette
Spring / Summer Usage Ideas:
Top RSS Spring Mix with duck confit, cubed MFC Red Delicious Apples, cubed fennel, and crumbled Roquefort cheese; dress with peppery vinaigrette
Toss RSS Spring Mix and steamed MFC Asparagus; top with poached egg and crumbled bacon
Mix together RSS Spring Mix, shaved radishes, edible nasturtiums, English peas, and diced MFC Cucumbers; drizzle with sherry vinaigrette
Did You Know?
Depending on seasonality and availability, the lettuces in RSS Spring Mix (Conventional and Organic) might include: Red Oak leaf, Lolla Rosa, Red Perella, Cocard, Amaranth, Little Gem, Green Perella, Green Oak Leaf, Brunia, Baby Spinach, Tat-soi, Mizuna, Red Mustard, Red Chard, Arugula, Radicchio, Frisee, Sangria, Tango and/or Beet Tops. Note: RSS Sweet Spring Mix excludes Frisee and Radicchio.