You are here
Onions, Strips, Yellow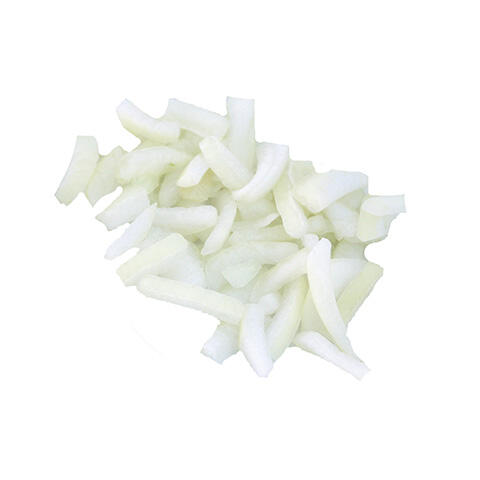 Ready-Set-Serve (RSS) Yellow Onion Strips are ready to use right out of the bag.

Available Offerings from Markon for Onions, Strips, Yellow
| Description | Net Weight | Pack | GTIN | UPC |
| --- | --- | --- | --- | --- |
| Onions, Strips, Yellow, 3/16" | 10 pounds or 5 kilograms | 2/5# | 1 06 11628 95116 1 | 6 11628 95116 4 |
Storage Tips:
Separate from foods that may absorb strong odors; very perishable.
Handling Tips:
High temperatures will cause decay or yellowing. This product is table ready and does not need to be rinsed.
General Usage Ideas
Sauté RSS Onions and MFC Mushrooms; cool and combine with shredded MFC Potatoes, beaten eggs, cream, and thyme; pour into pastry crust and bake
Combine grilled and diced sausage, boiled and sliced MFC Potatoes, and caramelized RSS Onions with mayonnaise and chopped sage; serve with hot sandwiches
Sauté RSS Onions, RSS Washed & Trimmed Green Kale, RSS Peeled Garlic, Italian sausage, and thyme; add cannellini beans and stock; simmer until all are tender; serve soup with baguette slices
Fall / Winter Usage Ideas:
Sauté sliced RSS Onions, RSS Peeled Garlic, edamame, and mint; purée and spread on crostini
Sauté RSS Onions, RSS Diced Celery, and chervil; stir in cubes of MFC Potatoes, lobster meat, and heavy cream; simmer until potatoes are tender and chowder has thickened
Cook ground lamb, chopped MFC Tomatoes, sliced RSS Onions, RSS Peeled Garlic, cinnamon, and allspice; layer meat mixture with sautéed MFC Eggplant and béchamel sauce; bake; serve moussaka in squares
Spring / Summer Usage Ideas:
Mix chopped MFC Strawberries, cubed Hass avocados, RSS Yellow Onions, minced jalapeno chile peppers, RSS Washed & Trimmed Cilantro, and RSS Lime Juice; serve with grilled snapper
Grill thickly sliced RSS Onions; serve on burgers, gourmet hot dogs, steaks, and pork chops
Stuff a whole trout with sliced MFC Lemons, RSS Onions, and tarragon; grill and serve with garlic-tarragon aioli
Did You Know?
The onion belongs to the Lily family, which also includes numerous beautiful flowering plants (edible and not). Freshly harvested onions have higher moisture content than storage onions and are lighter in color. From the middle to the end of the storage season (Nov-Mar), onions become drier and more yellow in color.