You are here
Juice, Lemon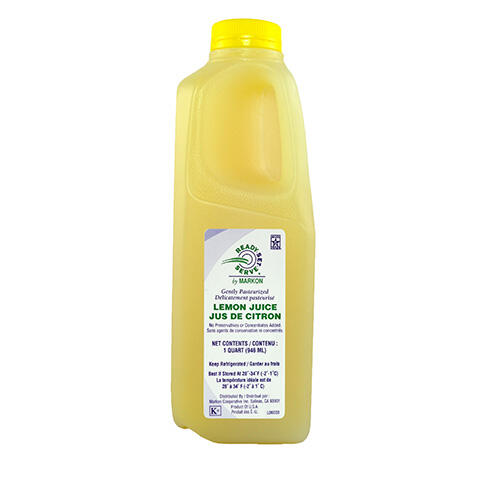 Ready-Set-Serve (RSS) Lemon Juice is gently pasteurized. Ready to serve - no mixing, no mess, no waste.

Available Offerings from Markon for Juice, Lemon
| Description | Net Weight | Pack | GTIN | UPC |
| --- | --- | --- | --- | --- |
| Lemon | 36 pounds or 17 kilograms | 16/1 QT | 1 06 11628 91872 0 | 6 11628 91872 3 |
| Lemon | 28 pounds or 13 kilograms | 6/.50 GAL | 1 06 11628 91873 7 | 6 11628 91873 0 |
| Lemon | 36 pounds or 17 kilograms | 4/1 GAL | 1 06 11628 91874 4 | 6 11628 91874 7 |
Storage Tips:
Keep in original containers; store at proper temperatures.
Handling Tips:
Refrigerate immediately upon arrival. Use FIFO method of rotation. Separation is normal - shake before pouring for maximum flavor.
General Usage Ideas
Blend buttermilk, Worcestershire sauce, mayonnaise, chives, blue cheese, RSS Peeled Garlic, and RSS Lemon Juice; use to dress green or fruit salads
Mix melted butter, chopped RSS Peeled Garlic, RSS Lemon Juice, and thyme; brush on halved MFC Zucchini; grill and serve with steaks
Purée basil, blueberries, RSS Lemon Juice, and sugar; freeze in an ice cream maker; serve sorbet with fresh berries and basil garnish
Fall / Winter Usage Ideas:
Combine roasted, boneless trout pieces with mascarpone cheese, RSS Green Onions, RSS Lemon Juice, and baby dill; serve with RSS Celery Sticks and sliced radishes
Roast MFC Eggplant and RSS Peeled Garlic; purée with RSS Lemon Juice, Kalamata olives, Italian parsley, basil, and olive oil; spread on crostini
Roast strips of MFC Potatoes and sea bass; mix sour cream, chives, and RSS Lemon Juice; for presentation, arrange potatoes on plate, top with sour cream mixture, then fish
Spring / Summer Usage Ideas:
Purée fresh chervil, chives, Italian parsley, and baby dill with RSS Lemon Juice and mayonnaise; spread on sandwiches or mix into potato salad
Mix shredded MFC Zucchini and MFC Anise with mayonnaise, RSS Lemon Juice, Dijon mustard, and salt; serve slaw with burgers
Top Waldorf salads (consisting of sliced MFC Granny Smith Apples, MFC Red Seedless Grapes, RSS Lemon Juice, walnuts, and mayonnaise) with RSS Celery Sticks
Did You Know?
All RSS Juices are gently pasteurized; this process eliminates any harmful bacteria that may be present, but does not destroy the enzymes, flavor or nutritional value of the juice.