You are here
Celery Stalks, MFC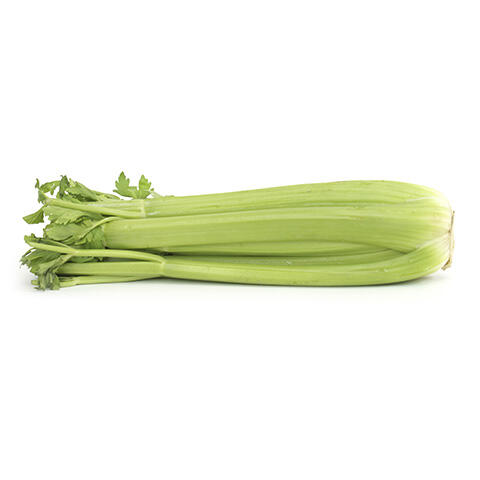 Markon First Crop (MFC) Jumbo Celery Stalks are packed in a convenient size for foodservice.

Sizing:
24 size. Sizing is based on the number of heads that typically fit into the traditional 40-lb. Carton. With celery, as with apples and lemons, the larger the size number, the smaller the celery.
Available Offerings from Markon for Celery Stalks, MFC
| Description | Net Weight | Pack | GTIN | UPC |
| --- | --- | --- | --- | --- |
| Celery, Large | pounds or kilograms | 6 COUNT | 0 06 11628 91678 1 | 6 11628 91678 1 |
| Celery Stalks, Jumbo | 40 pounds or 18 kilograms | 40 LB | 0 06 11628 95565 0 | 6 11628 95565 0 |
| Celery Stalks, Medium | 40 pounds or 18 kilograms | 40 LB | 0 06 11628 95570 4 | 6 11628 95570 4 |
Storage Tips:
Susceptible to wilting if exposed to high temperatures and low humidity; ethylene gas will produce yellowing.
Handling Tips:
If discolored or damaged ribs must be removed from the stalk, do not pull rib out of bunch. Trace damaged rib down to the butt end and trim out with the point of a knife. Rinse whole fruits and vegetables in clean running water prior to using.
General Usage Ideas
Bake single-portion puff pastry tarts filled with stewed pheasant, MFC Gala Apples, MFC Celery, pearl onions, portabella mushrooms, and MFC Thyme
Cook yellow lentils with Serrano ham, RSS Diced Carrots, MFC Celery, RSS Peeled Garlic, RSS Washed & Trimmed Cilantro, and vegetable stock
Garnish Bloody Marys with stalks of MFC Celery
Fall / Winter Usage Ideas:
Float five-spice short ribs, shiitake mushrooms, MFC Celery, and udon noodles in stock
Bake browned and chopped turkey, MFC Thyme, par-boiled RSS Carrot Coins, MFC Celery, MFC Idaho Potatoes, and mushroom gravy in puff pastry
Simmer beef cubes, RSS Sliced Onions, MFC Celery, cubed MFC Idaho Potatoes, green beans, and corn in beef stock; when thickened, serve with biscuits
Spring / Summer Usage Ideas:
Combine cooked wild rice, sugar snap peas, RSS Washed & Trimmed Green Onions, MFC Celery, and roasted and sliced duck breast; coat all with soy-ginger dressing
Mix poached and shredded chicken breasts with RSS Pineapple Chunks, MFC Celery, MFC Basil, and mayonnaise; serve in RSS Lettuce Jammers
Mix MFC Tarragon with house-made mayonnaise; combine with boiled and coarsely chopped MFC Mt. Vernon Red Potatoes, hard boiled eggs, crumbled bacon, MFC Celery, and sliced RSS Washed & Trimmed Green Onions
Did You Know?
Using a celery stick to garnish a Bloody Mary originated in the 1960s at Chicago's Ambassador East Hotel. An unnamed celebrity got a Bloody Mary, but no swizzle stick. He grabbed a stalk of celery from the relish tray to stir his Bloody Mary and history was made.