You are here
Celery, Sliced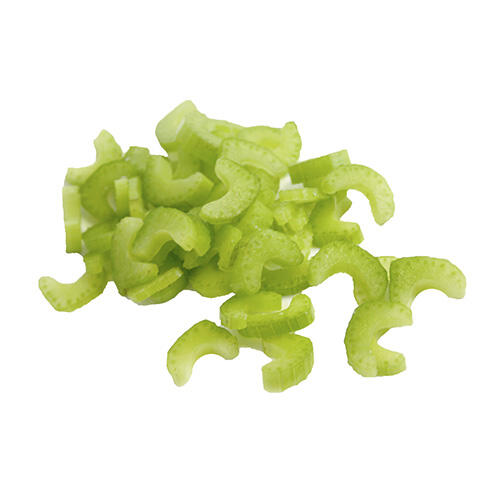 Ready-Set-Serve (RSS) 1/4" Sliced Celery offers 100% usable product, fixed weight and yield, no preservatives, and sensible pack sizes.

Available Offerings from Markon for Celery, Sliced
| Description | Net Weight | Pack | GTIN | UPC |
| --- | --- | --- | --- | --- |
| Celery, Sliced, 1/4" | 10 pounds or 5 kilograms | 2/5# | 1 06 11628 91671 9 | 6 11628 91671 2 |
Storage Tips:
Store away from ethylene gas and ripening rooms and in high humidity.
Handling Tips:
Reseal unused portion in original bag. This product is table ready and does not need to be rinsed.
General Usage Ideas
Mix together RSS Sliced Celery, roasted and sliced beets, sliced shallots, and fresh mint; drizzle with vinaigrette made with Italian parsley
Sauté RSS Sliced Celery, jicama, pepitas, RSS Washed & Trimmed Cilantro, and the zest of MFC Lemons; deglaze with RSS Lemon Juice; substitute for green beans
Stir RSS Sliced Celery into creamy salads such as potato, tuna, chicken, egg, and lobster; serve in sandwiches or as a side dish
Fall / Winter Usage Ideas:
Simmer cranberries and sugar in RSS Proprietary Blend Orange Juice until berries burst; remove from heat and stir in RSS Sliced Celery and sliced almonds
Stir together RSS Sliced Celery, chopped, skin-on MFC Red Delicious Apples, currants, walnuts, mayonnaise, and RSS Lemon Juice; serve with sandwiches and burgers
Mix RSS Fruit Salad Deluxe with RSS Sliced Celery and shaved fennel; serve on a bed of RSS Baby Spinach
Spring / Summer Usage Ideas:
Add plain yogurt, RSS Peeled Garlic, baby dill, and RSS Lemon Juice to sliced MFC Cucumbers and RSS Sliced Celery; serve with lamb burgers
Toss RSS Spring Mix, RSS Sliced Celery, watercress, blue cheese, and walnuts with cracked-pepper vinaigrette
Toss firm tofu and RSS Sliced Celery with sesame-soy vinaigrette; garnish with toasted black sesame seeds
Did You Know?
Using a celery stick to garnish a Bloody Mary originated in the 1960s at Chicago's Ambassador East Hotel. An unnamed celebrity got a Bloody Mary, but no swizzle stick. He grabbed a stalk of celery from the relish tray to stir his Bloody Mary and history was made.