You are here
Spinach, Triple-Washed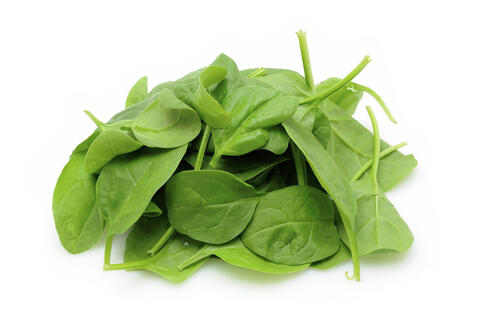 Ready-Set-Serve (RSS) Triple-Washed Spinach offers 100% usable product, fixed weight and yield, no preservatives, and sensible pack sizes.

Available Offerings from Markon for Spinach, Triple-Washed
| Description | Net Weight | Pack | GTIN | UPC |
| --- | --- | --- | --- | --- |
| Spinach, Triple-Washed | 10 pounds or 5 kilograms | 4/2.5# | 1 06 11628 92670 1 | 6 11628 92670 4 |
Storage Tips:
Refrigerate immediately--never break the cold chain; rotate on the FIFO basis.
Handling Tips:
Reseal unused portion in original bag. This product is table ready and does not need to be rinsed.
General Usage Ideas
Wilt RSS Triple-Washed Spinach and radicchio in warm bacon dressing; toss with cubes of MFC Red Delicious Apples and goat cheese; serve with steak or pork chops
Toss RSS Triple-Washed Spinach, RSS Orange Sections, baked and sliced beets, and pomegranate seeds; dress with tarragon vinaigrette
Add sautéed RSS Triple-Washed Spinach, Diced Onions, MFC Mushrooms, chopped MFC Tomatoes, and fresh basil to quiche batter; mold prosciutto in muffin tins; fill with quiche batter and bake
Fall / Winter Usage Ideas:
Toss RSS Orange Sections, RSS Triple-Washed Spinach, and toasted pecans; serve with gorgonzola dressing
Add RSS Triple-Washed Spinach and thinly sliced MFC Tomatoes to grilled cheese sandwiches; serve with cream of yellow tomato soup
Sauté RSS Triple-Washed Spinach, RSS Sliced Onions, and sliced MFC Mushrooms; when spinach is wilted, add cream cheese and nutmeg; when melted transfer to oiled baking dish and top with sliced MFC Tomatoes and grated Parmesan cheese; bake
Spring / Summer Usage Ideas:
Sauté morels and RSS Triple-Washed Spinach in brown butter; deglaze with white wine; when reduced, add a touch of cream; serve with poultry
Toss Triple-Washed Spinach with chopped and grilled MFC Eggplant, sliced MFC Cucumbers, and feta cheese; drizzle with sun-dried tomato dressing
Stir-fry chopped chicken with soy sauce, sesame oil, ginger, and RSS Peeled Garlic; add Triple-Washed Spinach, water chestnuts, and opal basil; serve over Japanese rice
Did You Know?
First cultivated in Persia, spinach reached Europe in the 9th century.