You are here
Spinach, Baby Organic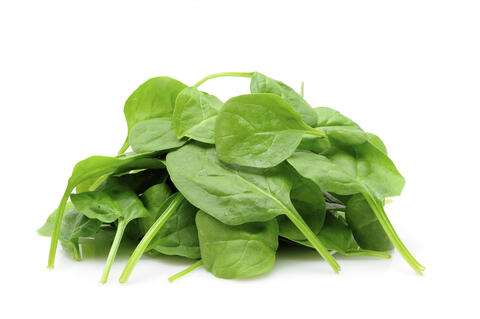 Ready-Set-Serve (RSS) Organic Baby Spinach offers 100% usable product, fixed weight and yield, no preservatives, and sensible pack sizes.

Available Offerings from Markon for Spinach, Baby Organic
| Description | Net Weight | Pack | GTIN | UPC |
| --- | --- | --- | --- | --- |
| Spinach, Baby Organic | 4 pounds or 2 kilograms | 2/2# | 1 06 11628 92211 6 | 6 11628 92211 9 |
Storage Tips:
Refrigerate immediately--never break the cold chain; rotate on the FIFO basis.
Handling Tips:
Reseal unused portion in original bag. This product is table ready and does not need to be rinsed.
General Usage Ideas
Wilt RSS Baby Spinach and radicchio in warm bacon dressing; toss with cubes of MFC Red Delicious Apples and goat cheese; serve with steak or pork chops
Toss RSS Baby Spinach, RSS Orange Sections, baked and sliced beets, and pomegranate seeds; dress with tarragon vinaigrette
Add sautéed RSS Baby Spinach, Diced Onions, MFC Mushrooms, chopped MFC Tomatoes, and fresh basil to quiche batter; mold prosciutto in muffin tins; fill with quiche batter and bake
Fall / Winter Usage Ideas:
Toss RSS Orange Sections, RSS Baby Spinach, and toasted pecans; serve with gorgonzola dressing
Add RSS Baby Spinach and thinly sliced MFC Tomatoes to grilled cheese sandwiches; serve with cream of yellow tomato soup
Sauté RSS Baby Spinach, RSS Sliced Onions, and sliced MFC Mushrooms; when spinach is wilted, add cream cheese and nutmeg; when melted transfer to oiled baking dish and top with sliced MFC Tomatoes and grated Parmesan cheese; bake
Spring / Summer Usage Ideas:
Sauté morels and RSS Baby Spinach in brown butter; deglaze with white wine; when reduced, add a touch of cream; serve with poultry
Toss RSS Baby Spinach with chopped and grilled MFC Eggplant, sliced MFC Cucumbers, and feta cheese; drizzle with sun-dried tomato dressing
Stir-fry chopped chicken with soy sauce, sesame oil, ginger, and RSS Peeled Garlic; add RSS Baby Spinach, water chestnuts, and opal basil; serve over Japanese rice
Did You Know?
First cultivated in Persia, spinach reached Europe in the 9th century.
Featured Recipes