You are here
Romaine Ribbons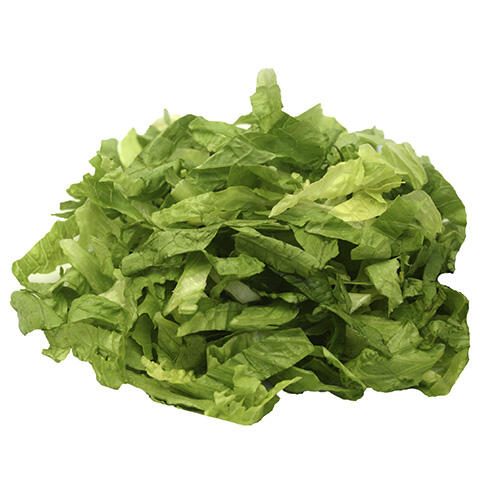 Ready-Set-Serve (RSS) Romaine Ribbons offer 100% usable product, fixed weight and yield, no preservatives, and sensible pack sizes.

Available Offerings from Markon for Romaine Ribbons
| Description | Net Weight | Pack | GTIN | UPC |
| --- | --- | --- | --- | --- |
| Romaine Ribbons | 12 pounds or 5 kilograms | 6/2# | 1 06 11628 92649 7 | 6 11628 92649 0 |
Storage Tips:
Refrigerate immediately upon arrival; store at high humidity with adequate circulation.
Handling Tips:
Reseal unused portion in original bag. This product is table ready and does not need to be rinsed.
General Usage Ideas
Combine RSS Romaine Ribbons with sliced MFC Cucumbers and red radishes; dress with tahini vinaigrette
Use RSS Romaine Ribbons to top tacos, tostadas, burgers, and sandwiches
Toss RSS Romaine Ribbons with roasted MFC Mushrooms and RSS Peeled Garlic; dress with caper vinaigrette
Fall / Winter Usage Ideas:
Mix together bulgur wheat, chopped MFC Tomatoes, RSS Washed & Trimmed Green Onions, RSS Lemon Juice, roasted RSS Peeled Garlic, RSS Washed & Trimmed Parsley, mint, and RSS Romaine Ribbons; serve tabbouleh with warm pita triangles
Toss RSS Romaine Ribbons with roasted, sliced chicken, oven-dried MFC Tomatoes, and anchovy dressing; garnish with shaved Parmesan
Fill fresh corn tortillas with duck confit; top with pickled MFC Red Onions and RSS Romaine Ribbons; garnish with crème fraiche and Thai chili sauce
Spring / Summer Usage Ideas:
Top cucumber gazpacho with RSS Romaine Ribbons and drizzled crème fraiche
Toss chopped cherry tomatoes, sliced MFC Cucumbers, chopped jicama, RSS Romaine Ribbons, garlic croutons, and buttermilk dressing
Add RSS Diced Onions, Worcestershire sauce, chopped oregano, and salt to ground lamb; patty and grill; serve on warm buns with sliced MFC Tomatoes and RSS Romaine Ribbons
Did You Know?
Lettuce is low in calories and provides vitamin C, calcium, and iron. Availability: lettuce is sourced from the following areas: Jan-Feb = Yuma, AZ; Mar-Apr = Huron, CA; Apr-Sept = Salinas, CA; Sept-Oct = Huron, CA; Dec = Yuma, AZ.