You are here
Pineapple Spears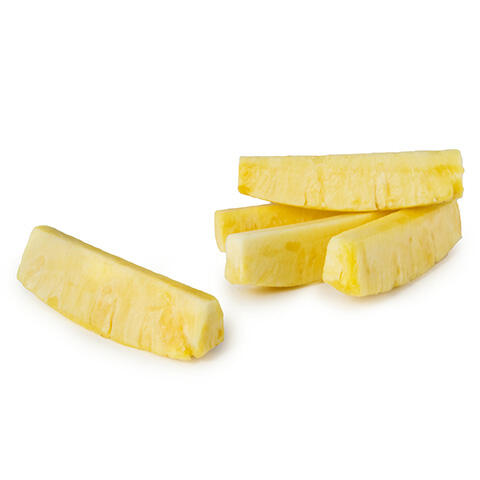 Ready-Set-Serve (RSS) Pineapple Spears are ready to use. Add flavor and color to your menu!

Available Offerings from Markon for Pineapple Spears
| Description | Net Weight | Pack | GTIN | UPC |
| --- | --- | --- | --- | --- |
| Pineapple Spears | 24 pounds or 11 kilograms | 24 LB | 0 06 11628 91422 0 | 6 11628 91422 0 |
| Pineapple Spears | 24 pounds or 11 kilograms | 24 LB CRTN | 0 06 11628 91423 7 | 6 11628 91423 7 |
Storage Tips:
Refrigerate immediately upon arrival; reseal unused portion in original lined pail.
Handling Tips:
Reseal unused portion in original lined pail. This product is table ready and does not need to be rinsed.
General Usage Ideas
Wrap RSS Pineapple Spears in prosciutto; bake until prosciutto is crisp; serve with a drizzle of balsamic syrup
Sauté chopped chicken thighs until browned; add RSS Broccoli Florets, RSS Pineapple Spears, and teriyaki sauce; simmer until all are cooked; serve with jasmine rice
Pickle RSS Pineapple Spears in vinegar, sugar, and cloves; serve with burgers and sandwiches
Fall / Winter Usage Ideas:
Stuff boneless chicken breasts with a RSS Pineapple Spear, goat cheese, and roasted MFC Red Bell Peppers; roast until chicken is cooked and cheese melts
Cook bacon until crisp; sauté RSS Pineapple Spears in bacon drippings; serve with roasted pork loin slices; drizzle with remaining drippings
Caramelize RSS Pineapple Spears in butter and brown sugar; arrange in a stack or geometric pattern; serve topped with vanilla bean ice cream and peanut brittle
Spring / Summer Usage Ideas:
Grill skewered RSS Pineapple Spears alongside chicken satay skewers; serve all on RSS Spring Mix; dress with Thai peanut sauce
Sprinkle grilled RSS Pineapple Spears with RSS Lime Juice and cayenne pepper; serve with skirt steak
Garnish tropical drinks and ice teas with RSS Pineapple Spears
Did You Know?
Our fresh-cut fruit is fresher because all items are cut and packed to order (not delivered from inventory).