You are here
Pineapple Chunks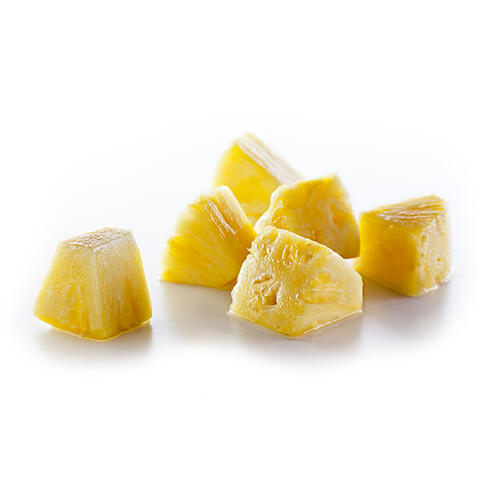 Ready-Set-Serve (RSS) Pineapple Chunks are ready to use. Add flavor and color to your menu!

Available Offerings from Markon for Pineapple Chunks
| Description | Net Weight | Pack | GTIN | UPC |
| --- | --- | --- | --- | --- |
| Pineapple Chunks | 8 pounds or 4 kilograms | 8 LB | 0 06 11628 91415 2 | 6 11628 91415 2 |
| Pineapple Chunks | 16 pounds or 7 kilograms | 2/8# | 1 06 11628 91416 6 | 6 11628 91416 9 |
Storage Tips:
Refrigerate immediately upon arrival; reseal unused portion in original lined pail.
Handling Tips:
Reseal unused portion in original lined pail. This product is table ready and does not need to be rinsed.
General Usage Ideas
Marinate shrimp in soy sauce and sesame oil; stir-fry with baby bok choy and RSS Pineapple Chunks
Top macadamia waffles with sautéed RSS Pineapple Chunks and coconut milk syrup
Simmer RSS Pineapple Chunks, raisins, minced MFC Red Bell Peppers, RSS Proprietary Blend Orange Juice, apple cider vinegar, brown sugar, and curry powder until soft; serve chutney with pork or poultry
Fall / Winter Usage Ideas:
Simmer boneless chicken, Thai chiles, chopped lemongrass, chopped RSS Peeled Garlic, RSS Pineapple Chunks, shiitake mushrooms, and fish sauce in chicken stock; top soup with RSS Washed & Trimmed Cilantro, basil, and mint
Stew RSS Pineapple Chunks with fresh cranberries, ginger, and sugar; serve with roasted pork or game
Give pineapple upside down cake a kick by baking gingerbread with RSS Pineapple Chunks
Spring / Summer Usage Ideas:
Toss RSS Hearts & Hearts with cooked black-eyed peas, RSS Pineapple Chunks, and crumbled bacon; dress with jalapeno vinaigrette
Sauté RSS Sliced Onions, chopped MFC Red Bell Peppers, and RSS Pineapple Chunks; serve with sliced ham
Garnish coconut rice pudding with RSS Pineapple Chunks and chopped mango
Did You Know?
Our fresh-cut fruit is fresher because all items are cut and packed to order (not delivered from inventory).