You are here
Orange Sections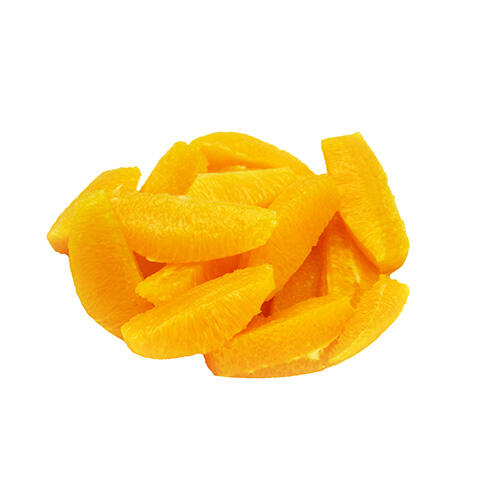 Ready-Set-Serve (RSS) Orange Sections are ready to use. Add flavor and color to your menu!

Available Offerings from Markon for Orange Sections
| Description | Net Weight | Pack | GTIN | UPC |
| --- | --- | --- | --- | --- |
| Orange Sections | 8 pounds or 4 kilograms | 8 LB | 0 06 11628 91407 7 | 6 11628 91407 7 |
| Orange Sections | 16 pounds or 7 kilograms | 2/8# | 1 06 11628 91408 1 | 6 11628 91408 4 |
Storage Tips:
Refrigerate immediately upon arrival; reseal unused portion in original lined pail.
Handling Tips:
Reseal unused portion in original lined pail. This product is table ready and does not need to be rinsed.
General Usage Ideas
Combine RSS Orange Sections, RSS Sliced Red Onions, RSS Washed & Trimmed Cilantro, and cubed avocados; top grilled mahi mahi steaks with fruit mixture
Toss RSS Orange Sections with grilled and chopped MFC Asparagus, MFC Yellow Onions, and basil vinaigrette
Spread citrus custard (made with RSS Lemon and RSS Proprietary Blend Orange Juice) over baked puff pastry squares; top with RSS Orange Sections and chopped pistachios
Fall / Winter Usage Ideas:
Simmer RSS Orange Sections with fresh cranberries, ginger, and RSS Proprietary Orange Juice; when all are soft and sauce has thickened, serve over turkey or goose
Toss RSS Orange Sections, baked and sliced beets, and pomegranate seeds with RSS Triple-Washed Spinach; dress with tarragon vinaigrette
Carefully arrange RSS Orange Sections in a circular pattern around a ganache-topped cheesecake; sprinkle with toasted coconut shavings
Spring / Summer Usage Ideas:
Layer crab salad, RSS Orange Sections, and snipped chives on crostini rounds
Marinate jumbo shrimp in RSS Lime Juice; mix with RSS Orange Sections, chopped fennel, RSS Sliced Red Onions, and fresh mint
Cook sea bass steaks in parchment or foil packets: fill with RSS Orange Sections, chopped MFC Onions, RSS Peeled Garlic, golden raisins, and fresh basil; cook until fish is steamed
Did You Know?
Our fresh-cut fruit is fresher because all items are cut and packed to order (not delivered from inventory).