You are here
Grapes, Red Seedless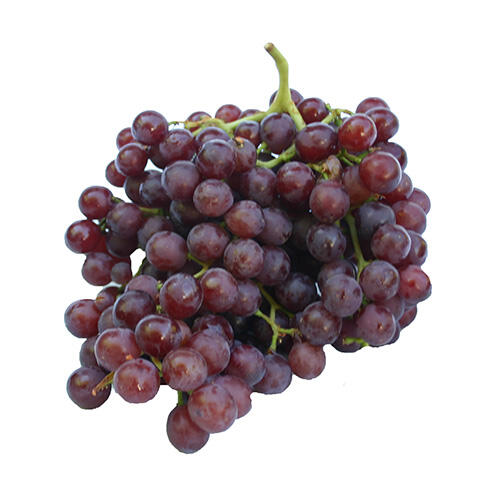 Markon First Crop (MFC) Red Seedless Grapes are available year-round.

Available Offerings from Markon for Grapes, Red Seedless
| Description | Net Weight | Pack | GTIN | UPC |
| --- | --- | --- | --- | --- |
| Grapes, Red Seedless | 5 pounds or 2 kilograms | 5 LB | 0 06 11628 91805 1 | 6 11628 91805 1 |
Storage Tips:
Refrigerate unwashed at high humidity.
Handling Tips:
Keep away from ethylene gas-producing items (apples, avocados, cantaloupe, tree fruit, and tomatoes). Rinse whole fruits and vegetables in clean running water prior to using.
General Usage Ideas
Dip MFC Red and Green Seedless Grapes in RSS Lime Juice, then superfine sugar; use to garnish desserts and buffet tables
MFC Red Seedless Grapes are ideal burger and sandwich sides
Top Waldorf salads (consisting of sliced MFC Granny Smith Apples, MFC Red Seedless Grapes, RSS Lemon Juice, walnuts, and mayonnaise) with RSS Celery Sticks
Fall / Winter Usage Ideas:
Serve MFC Red Seedless Grapes, sliced MFC Apples, pears, and figs on specialty cheese platters
Toss RSS Chopped Romaine, RSS Celery Sticks, MFC Red Seedless Grapes, and hazelnuts with roasted onion vinaigrette
Sauté RSS Stuffing Starter and fresh thyme; add wild rice and vegetable stock; simmer until rice is tender; stir in roasted MFC Red Seedless Grapes, walnuts, and the zest of MFC Oranges
Spring / Summer Usage Ideas:
Garnish cold soups such as green gazpacho, honeydew, and cucumber with sliced MFC Grapes and slivered almonds
Sauté RSS Diced Onions, MFC Red Seedless Grapes, and Italian parsley; serve seared sea scallops over top
Toss RSS Romaine Ribbons with MFC Red Seedless Grapes, RSS Sliced Celery, walnuts, and salty ham cubes; drizzle with chive vinaigrette
Did You Know?
Growing Season: Dec-Apr = Chile; May-Nov = California. According to the "Food and Agriculture Organization" (FAO), 75,866 square kilometers of the world is dedicated to grapes. Approximately 71% of world grape production is used for wine, 27% as fresh fruit, and 2% as dried fruit.