You are here
Cauliflower, Florets, Bite-Size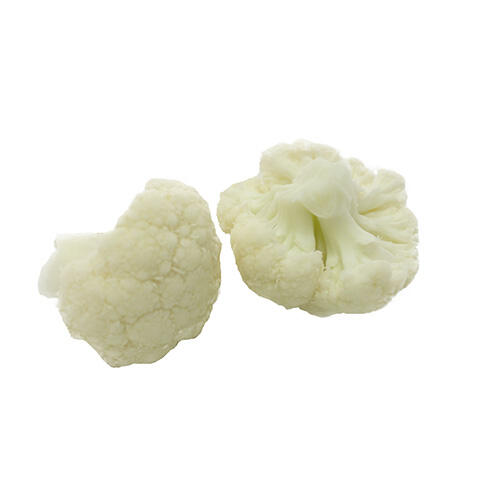 Ready-Set-Serve (RSS) Bite-Sized Cauliflower Florets are packed in a breathable bag, resulting in a long shelf life; 100% usable product.

Available Offerings from Markon for Cauliflower, Florets, Bite-Size
| Description | Net Weight | Pack | GTIN | UPC |
| --- | --- | --- | --- | --- |
| Cauliflower Florets, Bite-Size | 6 pounds or 3 kilograms | 2/3# | 1 06 11628 91670 2 | 6 11628 91670 5 |
Storage Tips:
Refrigerate immediately--never break the cold chain; rotate on the FIFO basis.
Handling Tips:
Reseal unused portion in original bag. This product is table ready and does not need to be rinsed.
General Usage Ideas
Mix steamed RSS Cauliflower Florets, sautéed MFC Red and Yellow Bell Peppers, and MFC Basil with eggs and cream; bake until firm
Add steamed RSS Cauliflower Florets to corn and potato chowders
Stir-fry RSS Cauliflower Florets with RSS Peeled Garlic, ginger, shallots and Thai fish sauce; serve with grilled beef and brown rice
Fall / Winter Usage Ideas:
Mix RSS Cauliflower Florets with cream, Parmesan cheese, and Dijon mustard; top with streusel made from RSS Sliced Onions, RSS Peeled Garlic, bread crumbs, and Parmesan; bake
Toss roasted RSS Cauliflower Florets, butternut squash cubes, MFC Red Onions, MFC Tarragon, and chopped walnuts with penne pasta; drizzle with olive oil
Simmer RSS Cauliflower Florets, sautéed RSS Sliced Onions, RSS Peeled Garlic, and MFC Thyme in vegetable stock; purée with cream and serve with shredded Cheddar and a sprig of MFC Thyme
Spring / Summer Usage Ideas:
Lightly steam RSS Cauliflower Florets; sauté with pine nuts and golden raisins; deglaze with sherry
Toss roasted and coarsely chopped RSS Cauliflower Florets, MFC Onions, cherry tomatoes, and crumbled bacon with sunflower seeds and poppy seed dressing
Stir-fry chunks of boneless chicken, RSS Cauliflower Florets, and RSS Pineapple Chunks until browned; add sesame teriyaki sauce; serve over white rice
Did You Know?
The nutritious leaves around the cauliflower can also be cooked and eaten.