You are here
Avocado, Guacamole Caliente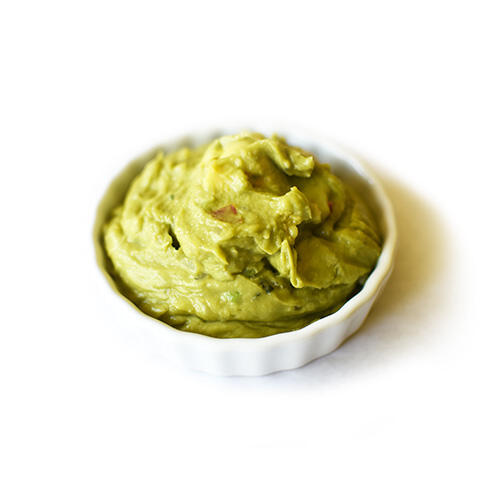 Ready-Set-Serve (RSS) Caliente Guacamole is made with fresh Hass avocados grown in Mexico; no preservatives or fillers of any kind.

Available Offerings from Markon for Avocado, Guacamole Caliente
| Description | Net Weight | Pack | GTIN | UPC |
| --- | --- | --- | --- | --- |
| Avocado, Caliente Guacamole | 12 pounds or 5.4 kilograms | 6/2# | 1 06 11628 94200 8 | 6 11628 94200 1 |
Storage Tips:
Use within three days of opening product.
Handling Tips:
For maximum shelf life refrigerate immediately upon arrival; use within three days of opening product.
General Usage Ideas
Purée RSS Guacamole with plain yogurt, minced Serrano chile peppers, cumin, salt, and pepper; stir in RSS Washed & Trimmed Cilantro; use as creamy salad dressing
Line soft, warm corn tortillas with RSS Guacamole; top with batter-fried fish, shredded red cabbage, diced jicama, and chopped MFC Tomatoes; drizzle with crema
Spread bread slices with butter; with butter side down, top one slice with RSS Guacamole, shredded Cheddar cheese, thinly sliced MFC Tomatoes, and cooked bacon; place other slice on top and cook in hot pan until cheese melts; slice and serve with tortilla chips or French fries
Fall / Winter Usage Ideas:
Spread toasted crostini rounds with RSS Guacamole; top with shredded pork and pickled RSS Red Onions; serve appetizers with extra side of guacamole
Top house-made onion rolls with thick-sliced ham and Monterey Jack cheese; broil until cheese melts, top with RSS Guacamole, sliced MFC Tomatoes, RSS Shredded Iceberg Lettuce, and bun top; slice and serve
Simmer black beans with cubed butternut, RSS Washed & Trimmed Green Onions, and RSS Peeled Garlic; serve over yellow rice; top with RSS Guacamole
Spring / Summer Usage Ideas:
Grill tomatillos and Anaheim chile peppers; purée and stir into RSS Guacamole; serve with tortilla chips and/or sticks of jicama, MFC Carrots, and sliced MFC Cucumbers
Purée grilled corn and jalapeno peppers with crema, salt, and pepper; chill and serve soup topped with quenelle of RSS Guacamole
Spread RSS Guacamole over crisp tostada rounds; top with grilled Cajun shrimp and chopped RSS Washed & Trimmed Green Onions
Did You Know?
Avocados are an excellent source of dietary fiber. They are high in "good fat" (monounsaturated) and cholesterol-free.