You are here
Apples, Golden Delicious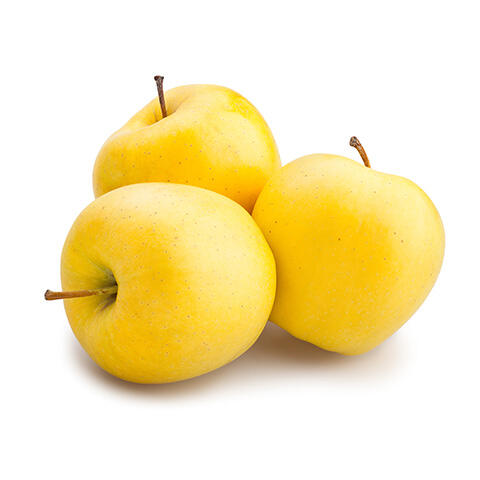 Markon First Crop (MFC) Golden Delicious Apples exceed USDA standards for color and shape, offering consistent texture, sugar levels, color, and taste.
Sizing:
Size designations are based on the approximate number of apples that fit in a 40-lb. carton, so the larger the number, the smaller the apple.
Grades:
Both U.S. and Washington State grade apples based on color and percentage of defects. Specifically, grading is based on skin color, shape, scarring (caused by branches rubbing the fruit), Brix - Granny Smith only (Brix is a measure of sugars/sweetness in the fruit; it is expressed as degrees.) Grades (from best to good quality): Washington Extra Fancy Premium (WX PRE), Washington Extra Fancy 1 (WX 1), Washington Extra Fancy 2 (WX 2), U.S. Extra Fancy (USX), Washington Fancy (WF).
Available Offerings from Markon for Apples, Golden Delicious
| Description | Net Weight | Pack | GTIN | UPC |
| --- | --- | --- | --- | --- |
| | pounds or kilograms | | | |
Storage Tips:
Refrigerate and keep at high humidity; apples give off ethylene and are sensitive to it, so store appropriately.
Handling Tips:
Handle with care to prevent bruising and decay. Rinse whole fruits and vegetables in clean running water prior to using.
General Usage Ideas
Chop Idaho potatoes and apples into cubes; mix with olive oil and salt; roast with rosemary.
Accent brown rice or stuffing with fresh cranberries, sautéed mushrooms, and chopped apples.
Fall / Winter Usage Ideas:
Sauté RSS Red Onion Strips, sliced MFC Golden Delicious Apples, shredded red and green Cabbage, and sliced fennel; serve with grilled bratwurst
Sauté RSS Sliced Onions, chopped MFC Golden Delicious Apples, chopped chestnuts, and thyme; purée and stir in cream; garnish with swirl of crème fraiche, chopped chestnuts, and more thyme
Stir cubes and purée of MFC Golden Delicious Apples into cinnamon cake batter; slice and serve with eggnog custard sauce
Spring / Summer Usage Ideas:
Toss together RSS Cole Slaw Kit ingredients, shredded MFC Golden Delicious Apples, thinly sliced MFC Red and Yellow Bell Peppers, chopped RSS Washed & Trimmed Green Onions, and RSS Washed & Trimmed Cilantro; mix with sesame-ginger dressing and serve with grilled seafood and meats
Fill RSS Lettuce Jammers with chicken salad made with poached and chopped chicken breasts, MFC Golden Delicious Apples, RSS Sliced Celery, mayonnaise, chervil, and freshly cracked black pepper
Grill MFC Asparagus and MFC Golden Delicious Apples; chop and toss with RSS Spring Mix and grated Gruyere cheese; drizzle with apple cider vinaigrette
Did You Know?
Washington apple growers who pack Markon First Crop are the largest and most sophisticated in the industry, with the most rigorous quality control standards. Their electronic sorting machines guarantee consistent size and grade in every box. Washington apples are 'put to sleep' during storage season using a process called Controlled Atmosphere (CA) Storage. The fruit is placed in large, airtight refrigerated rooms where temperature, oxygen, carbon dioxide, and humidity are carefully controlled. This storage method slows respiration, which in turn slows ripening, so the apples stay firm and crisp for months. Washington's harvest begins as follows (depending on weather conditions): Gala and Golden Delicious - Mid-August; Red Delicious, Granny Smith, and Fuji - Early September; Braeburn - October. California apple shipments typically begin in January and continue until supplies are exhausted.