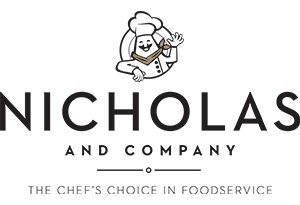 Nicholas & Company's Initiatives
Nicholas & Company was founded in 1939 by Nicholas William Mouskondis and is now under the stewardship of its third generation with Peter Mouskondis at the helm. The family's vision and commitment incorporate integrity, honesty, and opportunity for all associates and team members, while standing as the guidepost in moving the business forward. Sustainability in the company's facility, operations, and products is a key factor to its continued success and validates its promise to be a good corporate citizen.
Nicholas & Company has partnered with the SWCA Environmental Performance Group to perform a carbon footprint analysis of its operations. The company is now developing a plan to reduce its impact on the environment by implementing operational changes to minimize that footprint. Nicholas & Company employs more than 500 team members and services more than 3,500 customers in a six-state area, and the company takes its impact on the communities and families it touches seriously.
In the fall of 2008, Nicholas & Company's facility was expanded and upgraded to maximize efficiencies, utilizing sustainable practices and products. The company provides customers with many options for local, sustainable, and green products in all of the categories it stocks. Nicholas & Company is also committed to sustainable operations in its warehouse, office, and with its delivery fleet.
Nicholas & Company is proud of what it has accomplished toward being a sustainable business and a responsible member of the Utah economy, where the company is headquartered. The company is excited about its continued development in these areas and knows that by definition, sustainability is an ongoing, ever-changing process.
Sustainable Products and Tools
Nicholas & Company is committed to sourcing realistic options for the environmentally conscious foodservice operator, making it easier for customers to green their operations. The Envirable™ collection of products represents recycled, recyclable, and compostable options to traditional paper products, disposables, take-out containers, and more. Nicholas & Company is a member of Utah's Own and supports many local companies and distributes many local products.

Full line of Envirable™ products in stock.

Locally grown seasonal produce including: apples, mushrooms, cherries, cucumbers, lettuce, arugula, melons, squash, peaches, nectarines, apricots, pears, corn, berries, beets, beans, zucchini, tomatoes, herbs, cabbage, peppers, green onions, and peas.
Local, organic, natural, and/or sustainable products in all categories including honey, cakes, flour and baking mixes, bread, meat, poultry, cheese, ice cream, prepared Greek and Mexican items, BBQ sauce, and water, among others.
Operational tools for customers:
Sustainability definitions and explanations.
Steps to "greening" restaurants.
Reduce-Reuse-Recycle Guide.
Product location assistance.
Operational review for sustainable ideas.
Sustainable Facility
Motion sensor conserve-a-watt lighting in office and warehouse.
Low-energy/high-lumen light bulbs.
Recycled insulation in thicker cooler/freezer walls.
Light-reflective roofing material.
Renewable carpeting.
UV-reflective film on windows.
Winter/summer office temperature management.
Reflective, recycled roof membrane.
Reflective, low VOC exterior paint.
Water-efficient faucets in bathrooms.
Sustainable Operations
Nicholas & Company recycles all cardboard, about 16,000 pounds per week.
All equipment in the warehouse is electric, emitting no fumes or exhaust.
The company fuels tractors and trailers at night allowing for less evaporation and fewer fumes going into the atmosphere.
All new trailers have 4-inch insulated walls compared to the industry standard of 2½-inch. The additional thickness requires less energy to maintain the cold chain.
Nicholas & Company purchased smaller engines with better fuel economy for its delivery vehicles.
The company recaps tires four times and then recycles.
Office paper recycling.
Employee bike racks.
Reserved parking stalls for energy-efficient vehicles.