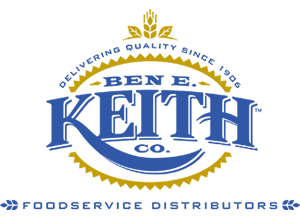 Ben E. Keith Foods' Initiatives
Ben E. Keith is committed to using its resources responsibly, and the company is concentrating on improving its environmental impact in all areas of its business.
Here are some of Ben E. Keith's "green" activities:
Third-party design build team is LEED Accredited.
Ammonia is used for refrigeration in the company's warehouses, which has no ozone depletion potential.
Installed energy-efficient controls on refrigeration systems.
Utilizing water-saving appliances in all areas of operation.
Installing LED lighting and automatic lighting controls with motion sensors in all interior and exterior light fixtures.
Utilizing plastic pallets for shipping, which are lighter than wood and can be used for years rather than months.
Recycling shrink-wrap and cardboard to reduce waste.
Utilizing tractors that feature next-generation engines, designed for less carbon emissions through particulate filters.
Truck tires are filled with nitrogen, reducing the loss of air and improving fuel efficiency. Ben E. Keith also uses wide-based tires, which are lighter and give less rolling resistance.
Performing excessive idle management to reduce emissions and increase fuel economy.
Using routing tools to reduce vehicle travels.
The company's tractors have the latest in truck refrigeration systems, which save fuel and lower emissions.
Ben E. Keith has begun paperless deliveries in some markets.
To save paper, the company scans all invoices to provide online access rather than hand delivery or fax.
Working with customers and vendors on electronic transactions.
Ordering aluminum wheels on all fleet trucks to reduce weight and increase fuel economy.