You are here
Lettuce, Trimmed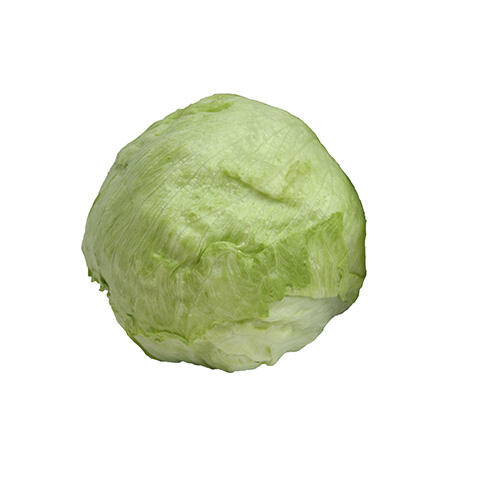 Markon First Crop (MFC) Premium Lettuce is harvested only after inspection for maturity, flavor, texture, color, and weight to offer the highest possible yield; shipped in recyclable, wax-free cartons.

Available Offerings from Markon for Lettuce, Trimmed
| Description | Net Weight | Pack | GTIN | UPC |
| --- | --- | --- | --- | --- |
| Lettuce, Trimmed | pounds or kilograms | 24 COUNT | 1 06 11628 91980 2 | 6 11628 91980 5 |
Storage Tips:
Refrigerate immediately upon arrival; store at high humidity with adequate circulation.
Handling Tips:
To minimize browning, store lettuce away from ethylene-producing items (apples, avocados, cantaloupe, pears, and tomatoes). Rinse whole fruits and vegetables in clean running water prior to using.
General Usage Ideas
Use MFC Trimmed Iceberg to top tacos, tostadas, burgers, and sandwiches
Top chopped MFC Trimmed Iceberg with apple-smoked bacon, pickled MFC Red Onions, and spicy pecans; drizzle with Gorgonzola dressing
Mix together bulgur wheat, chopped MFC Tomatoes, RSS Washed & Trimmed Green Onions, RSS Lemon Juice, roasted RSS Peeled Garlic, RSS Washed & Trimmed Parsley, mint, and MFC Trimmed Iceberg; serve tabbouleh with warm pita triangles
Fall / Winter Usage Ideas:
Stir-fry diced chicken thighs, RSS Washed & Trimmed Green Onions, RSS Broccoli Florets, MFC Mushrooms, halved cashews, and Hoisin sauce; toss with MFC Trimmed Iceberg
Serve thinly sliced gyro lamb meat, chopped MFC Tomatoes, sticks of MFC Cucumbers, and dill tzatziki sauce over MFC Trimmed Iceberg
Toss MFC Trimmed Iceberg with shredded Brussels sprouts, chopped hazel nuts, and crumbled bacon; drizzle with hot bacon-sherry vinaigrette
Spring / Summer Usage Ideas:
Toss chopped MFC Trimmed Iceberg with sliced mango, macadamia nuts, and vinaigrette made with MFC Strawberries
Slather whole wheat bread with RSS Avocado Pure Pulp; top with sliced heirloom tomatoes, crisp bacon strips, and MFC Trimmed Iceberg
Purée grilled jalapeno chile peppers, RSS Lime Juice, and RSS Washed & Trimmed Cilantro; toss MFC Iceberg with fried tortilla strips; serve on top of grilled mahi mahi; drizzle chile pepper mixture over all
Did You Know?
Lettuce is low in calories and provides vitamin C, calcium, and iron. Availability: lettuce is sourced from the following areas: Jan-Feb = Yuma, AZ; Mar-Apr = Huron, CA; Apr-Sept = Salinas, CA; Sept-Oct = Huron, CA; Dec = Yuma, AZ.