You are here
Kalettes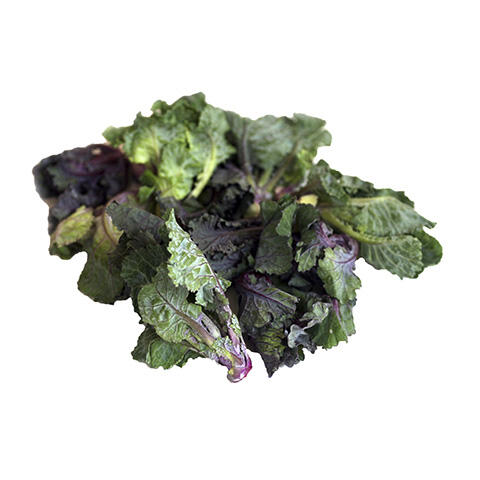 Markon First Crop (MFC) Kalettes are a cross between red Russian kale and Brussels sprouts. They can be sautéed, steamed, or stir-fried, or used raw in salads, making them the perfect addition to nearly any meal.

Available Offerings from Markon for Kalettes
| Description | Net Weight | Pack | GTIN | UPC |
| --- | --- | --- | --- | --- |
| Kalettes | 3 pounds or 1 kilograms | 3 LB | 2 06 11628 91904 5 | 6 11628 91904 1 |
Storage Tips:
Keep away from drafts to prevent dehydration.
Handling Tips:
Use FIFO method of rotation. This product is table ready and does not need to be rinsed.
General Usage Ideas
Stir into scrambled eggs or add to omelets and quiches
Chop and mix into crab, quinoa, and risotto cakes
Top pizza dough with flash-fried MFC Kalettes, RSS Peeled Garlic, and grated Parmesan cheese; bake
Layer between lasagna noodles, use to fill ravioli, or toss into pasta recipes
Fall / Winter Usage Ideas:
Stir-fry RSS Kalettes with sliced MFC Mushrooms, MFC Onions, and MFC Red Bell Peppers; serve with chops or steaks.
Saute RSS Kalettes with RSS Peeled Garlic and the zest of MFC Lemons; bake with pasta shells, Bechamel sauce, and grated white Cheddar cheese.
Spring / Summer Usage Ideas:
Toss RSS Kalettes with sliced almonds, garbanzo beans, and roasted red beets; dress with orange-pistachio vinaigrette.
Substitute RSS Kalettes in classic Caesar salads; toss with anchovy, Parmesan, RSS Lemon Juice, and olive oil.
Did You Know?
Markon First Crop (MFC) Kalettes are ideal in both raw and cooked applications. Use them in salads and pastas, as a sauteed side dish, and
in soups, stews, and braises.