You are here
Juice, Lemonade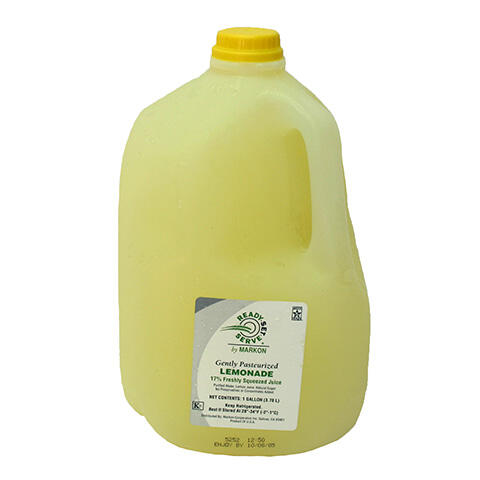 Ready-Set-Serve (RSS) Lemonade is gently pasteurized. Ready to serve - no mixing, no mess, no waste.

Available Offerings from Markon for Juice, Lemonade
| Description | Net Weight | Pack | GTIN | UPC |
| --- | --- | --- | --- | --- |
| Lemonade | 36 pounds or 17 kilograms | 4/1 GAL | 1 06 11628 91860 7 | 6 11628 91860 0 |
Storage Tips:
Keep in original containers; store at proper temperatures.
Handling Tips:
Refrigerate immediately upon arrival. Use FIFO method of rotation. Separation is normal - shake before pouring for maximum flavor.
General Usage Ideas
Freeze cubes of RSS Lemonade; use instead of ice cubes in lemonade, iced tea, and fruity cocktails
Mix one part RSS Lemonade to one part iced tea; serve Arnold Palmers with fresh mint
Fall / Winter Usage Ideas:
Mash blackberries in RSS Lemonade; freeze in an ice cream maker and serve sorbet with tuile cookies
Boil chopped lemongrass in sugar water until reduced to a thick syrup; combine with peeled lychees and RSS Lemonade; purée and add enough soda water to thin; serve with lemongrass sticks
Spring / Summer Usage Ideas:
Garnish RSS Lemonade with rosemary; adds flavor and eye appeal
Stir together RSS Proprietary Orange Juice, RSS Lemonade, peach nectar, chopped MFC Golden Pineapple, sliced MFC Strawberries, and chopped MFC Oranges; serve punch with fruit garnish
Pour RSS Lemonade, RSS Grapefruit Juice, and RSS Proprietary Blend Orange Juice in popsicle molds; freeze
Did You Know?
All RSS Juices are gently pasteurized; this process eliminates any harmful bacteria that may be present, but does not destroy the enzymes, flavor or nutritional value of the juice.