You are here
Juice, Grapefruit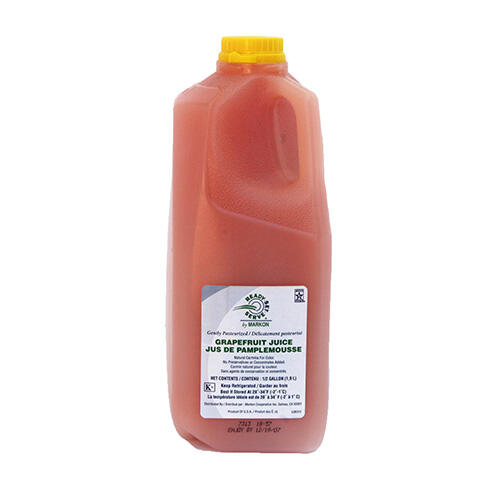 Ready-Set-Serve (RSS) Grapefruit Juice is gently pasteurized. Ready to serve - no mixing, no mess, no waste.

Available Offerings from Markon for Juice, Grapefruit
| Description | Net Weight | Pack | GTIN | UPC |
| --- | --- | --- | --- | --- |
| Grapefruit | 28 pounds or 13 kilograms | 6/.50 GAL | 1 06 11628 91849 2 | 6 11628 91849 5 |
Storage Tips:
Keep in original containers; store at proper temperatures.
Handling Tips:
Refrigerate immediately upon arrival. Use FIFO method of rotation. Separation is normal - shake before pouring for maximum flavor.
General Usage Ideas
Toss RSS Grapefruit Sections, chopped jicama, RSS Washed & Trimmed Cilantro, and minced jalapeno chile peppers; dress with vinaigrette made with RSS Grapefruit Juice
Sear scallops; deglaze with RSS Grapefruit Juice; simmer with RSS Grapefruit Sections and snipped chives
Serve RSS Rio Citrus Salad and minced ginger in RSS Grapefruit Juice and Campari
Fall / Winter Usage Ideas:
Toss RSS Spring Mix, RSS Sliced Red Onions, sliced Hass avocados, and Marcona almonds; dress salad with vinaigrette made with RSS Grapefruit Juice and grapeseed oil
Sauté RSS Triple-Washed Spinach and RSS Peeled Garlic; deglaze with RSS Grapefruit Juice
Garnish RSS Grapefruit Juice with pomegranate seeds
Spring / Summer Usage Ideas:
Pour RSS Lemonade, RSS Grapefruit Juice, and RSS Proprietary Blend Orange Juice in popsicle molds; freeze
Blend RSS Grapefruit Juice, MFC Strawberries, soda water, honey, and crushed ice; serve with whole berry garnish
Freeze RSS Grapefruit Juice and rosemary simple syrup; serve sorbet between courses as a palate cleanser
Did You Know?
All RSS Juices are gently pasteurized; this process eliminates any harmful bacteria that may be present, but does not destroy the enzymes, flavor or nutritional value of the juice.