You are here
Broccoli, Crowns, RSS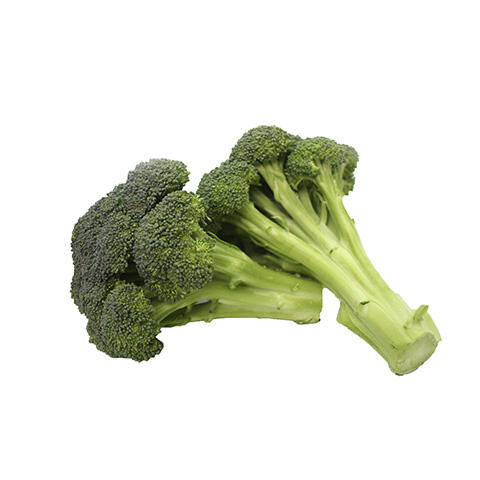 Ready-Set-Serve (RSS) Broccoli Crowns offer 100% usable product, fixed weight and yield, no preservatives, and sensible pack sizes.

Available Offerings from Markon for Broccoli, Crowns, RSS
| Description | Net Weight | Pack | GTIN | UPC |
| --- | --- | --- | --- | --- |
| Broccoli, Crowns | 12 pounds or 5 kilograms | 4/3# | 1 06 11628 91570 5 | 6 11628 91570 8 |
Storage Tips:
Refrigerate immediately--never break the cold chain; rotate on the FIFO basis.
Handling Tips:
Reseal unused portion in original bag. This product is table ready and does not need to be rinsed.
General Usage Ideas
Fold steamed and finely chopped RSS Broccoli Crowns and the zest of MFC Lemons into soufflé batter; bake until light and airy
Chop RSS Broccoli Crowns and toss with olive oil, salt, and pepper; roast until tender; serve aside steaks with grated Parmesan cheese
Toss cooked linguine with clams, steamed and chopped RSS Broccoli Crowns, sautéed slices of RSS Peeled Garlic, crushed red pepper flakes, and RSS Washed & Trimmed Parsley
Fall / Winter Usage Ideas:
Toss steamed and chopped RSS Broccoli Crowns, halved cherry tomatoes, sliced roast beef, and RSS Washed & Trimmed Green Onions; serve in butter lettuce bowl with creamy horseradish dressing drizzled over all
Stir steamed and chopped RSS Broccoli Crowns, cooked and chopped chicken breasts, and crispy bits of pancetta into macaroni and cheese
Top cheesy polenta with chopped and sautéed RSS Broccoli Crowns, RSS Peeled Garlic, and chopped hot Italian sausage
Spring / Summer Usage Ideas:
Mix together chopped and steamed RSS Broccoli Crowns, shrimp, golden raisins, Madras curry powder, and mayonnaise; serve in RSS Lettuce Jammers or on crisped bread rounds
Make broccoli pesto by combining steamed and chopped RSS Broccoli Crowns, RSS Peeled Garlic, pine nuts, Parmesan cheese, and olive oil; toss with orecchiette
Toss RSS Triple-Washed Spinach with RSS Orange Rounds, RSS Broccoli Crowns, candied walnuts, and crumbled blue cheese
Did You Know?
Growing Seasons: Dec-Mar = Yuma, Arizona; Apr-Nov = Salinas, California. Broccoli has existed for more than 2,000 years. California grows 90% of the total production in the U.S. In 1970, we consumed an average of one-half pound of broccoli per person; today we average four and one-half pounds per year.