You are here
Broccoli, Baby Sweet, MFC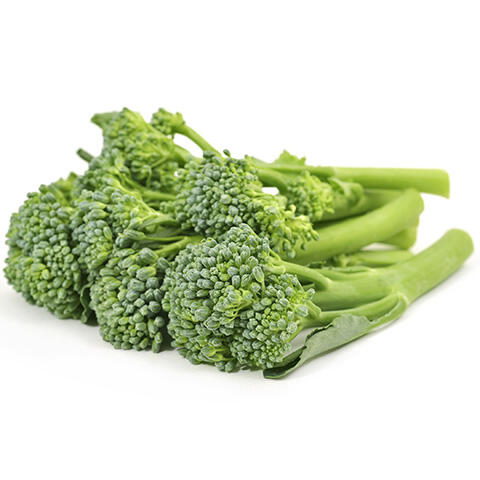 Markon First Crop (MFC) Ice-Free Sweet Baby Broccoli is high in vitamin C, and contains both vitamin A and fiber.

Available Offerings from Markon for Broccoli, Baby Sweet, MFC
| Description | Net Weight | Pack | GTIN | UPC |
| --- | --- | --- | --- | --- |
| Broccoli, Baby Sweet | pounds or kilograms | 18 COUNT | 2 06 11628 91615 0 | 6 11628 91615 6 |
Storage Tips:
Refrigerate immediately--never break the cold chain; rotate on the FIFO basis.
Handling Tips:
Rough handling can result in bruising. Rinse whole fruits and vegetables in clean running water prior to using.
General Usage Ideas
Use raw and cooked, as a stand-alone side dish and an ingredient in any number of recipes including salads, soups, pizza, pasta, and stir-fries.
Perfect as an ingredient in almost any dish or serve blanched as a unique crudité.
Brush with olive oil and salt/pepper before cooking to add flavor to any side dish or roasted vegetable medley.
Fall / Winter Usage Ideas:
Top crunchy crostini with heirloom tomatoes, zesty garlic, chopped garlic, and MFC Sweet Baby Broccoli; drizzle with extra virgin olive oil.
Lend toothsome texture to chicken breasts simmered in a creamy mustard sauce with sauteed MFC Sweet Baby Broccoli.
Layer steamed MFC Sweet Baby Broccoli and grilled Portabella mushrooms, then top with creamy Bechamel sauce and Parmesan cheese; bake until browned.
Spring / Summer Usage Ideas:
Offer a veg-centric appetizer of raw jicama sticks, sliced mango, and steamed MFC Sweet Baby Broccoli tossed in spicy Thai peanut sauce.
Char stalks of MFC Sweet Baby Broccoli on the grill; chop and mix into mayonnaise-based salads like macaroni, lobster, and turkey.
Toss grilled MFC Sweet Baby Broccoli with xo sauce; top with bonito flakes.