You are here
Arugula, Lemony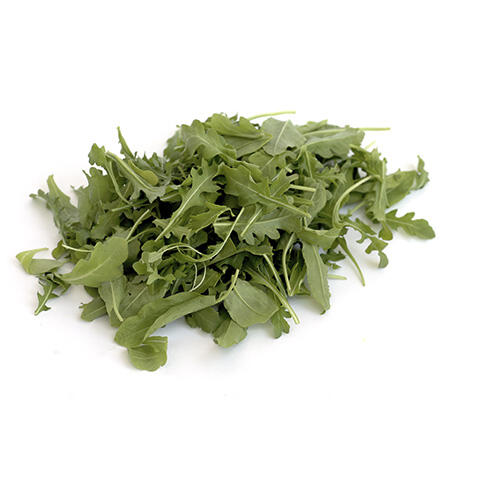 Ready-Set-Serve (RSS) Organic Lemony Arugula is grown year-round by only the best growers in the US—and is always backed by Markon's comprehensive 5-Star Food Safety® Program. Its unique flavor profile makes it a chef's secret weapon, especially in green salads and pasta recipes. Look for it packed in our eco-friendly recyclable, wax- and staple-free cartons.

Available Offerings from Markon for Arugula, Lemony
| Description | Net Weight | Pack | GTIN | UPC |
| --- | --- | --- | --- | --- |
| Arugula, Lemony Organic | 3 pounds or 1 kilograms | 2/1.5# | 1 06 11628 91389 3 | 6 11628 91389 6 |
Storage Tips:
Refrigerate immediately--never break the cold chain; rotate on the FIFO basis.
Handling Tips:
Reseal unused portion in original bag. This product is table ready and does not need to be rinsed.
General Usage Ideas
Use this versatile blend to give appetizers and soups complexity; great on crostini, in dumplings, quiches, and spring rolls.
Pair the zingy flavor with sweeter lettuces like green leaf and romaine or fruits such as apples, pears, and figs. It also pairs quite well with salty hams, toasted nuts, and roasted vegetables such as beets, carrots, and winter squashes.
Organic Lemony Arugula is no stranger to entrées—use in pesto and pasta dishes, on pizzas, in sandwiches, and on burgers.
Fall / Winter Usage Ideas:
Toss with oil and vinegar, then serve on top of pizza, creamy soups, and polenta
Blend lemony arugula, grape tomatoes, and garlic confit with cooked pasta and extra virgin olive oil
Create a seasonal salad with lemony arugula, pomegranate seeds, and roasted Delicata squash rings
Spring / Summer Usage Ideas:
Create a pesto using RSS Organic Lemony Arugula, Parmesan cheese, walnuts, and olive oil; toss with pasta or spread on pizza
Toss grilled corn, pepitas, and Cotija cheese with lemony arugula; serve with creamy avocado dressing Add citrus and peppery notes to sandwiches, wraps, and tacos
Did You Know?
Herbs are one of the oldest agricultural products. Egyptian records from as early as 2800 B.C. mention their role in food, medicine, cosmetics, perfumes, dyes and magic.