Chef Vic Vegas, Nicholas & Company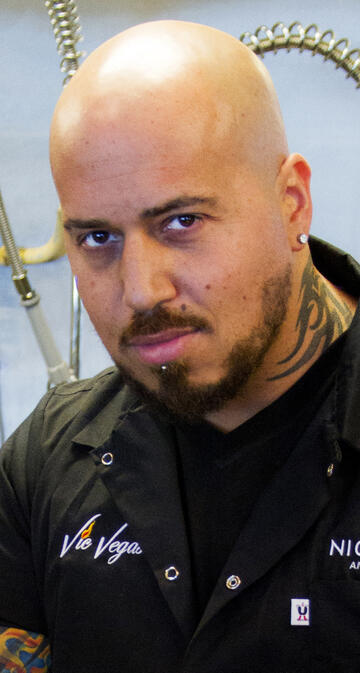 Meet Chef Vic Vegas.
Chef Vegas is a self-trained restaurant chef who worked his way up the culinary ladder from dishwasher to Corporate Executive Chef at several Las Vegas hotels, including the MGM Grand, Station Casinos, Binions, Paragon, SBE House of Lords, and many other local restaurants around the city over a 20-year span. Today he is the Corporate Executive Chef for Nicholas & Company for the regions of Las Vegas, Nevada and Salt Lake City, Utah. He specializes in high-volume banquets consisting of annual holiday functions, weddings, corporate events, and parties of all kinds.
In 2008, Chef Vic's television career started when he competed—and won the gold medal—in the Food Network's Big Bash Catering Competition. Next he participated in 12 episodes of The Next Food Network Star, finishing as a runner up. Chef Vic co-hosted Late Night Chef Fight with Layla Ali for the first two seasons on the A&E/FYI television networks, participated in Chopped All Stars, and is the Food Network Food Truck Face-Off winner. In 2014, he was NBC Food Fighters' season one winner. He also appeared on the CW's daytime show Reluctantly Healthy with host Judy Greer and the Food Network's fan favorite, The Rachael Ray Show. These days you can find Chef Vic on the hit cable TV program Bar Rescue—six episodes have aired, with two more coming later this year. 
Always active in charity, Chef Vic currently supports St Jude's Ranch for Children and the Leeds Discovery Children's Museum, and will be participating in the annual pre-Indy 500 launch event, Indy Rev.