Chef Chris Cukjati, Ben E. Keith Foods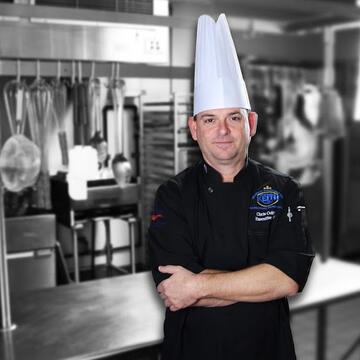 Meet Chef Cukjati.
For the last three and a half years and counting,  Chris has served as Executive Chef and Culinary Consultant/Business Review for Ben E. Keith's San Antonio Food Division. He strives to utilize all of his culinary experience, training, and extensive sales knowledge acquired over many years in the food service business to serve both the sales force and business development teams.
Chris's passion for this business came at an early age, spending many summers in Kansas on the Franklin Cukjati Farm. His grandparents had real passion for delicious food. After high school and two years into college, Chris enrolled in the Chef Apprentice program at El Centro College in Dallas. This led him to multiple hotel jobs in the DFW area until 1989 where he traded his toque for a brown uniform. He spent the next 11 years at UPS wishing he was back in the kitchen. 
After applying and being elected to receive the I.A.C.P. scholarship from top culinary minds such as Jacques Pepin, he left Texas and attended Johnson & Wales University in Miami. Chris graduated with honors and fulfilled his goal to intern at the Five Star/Five Diamond Four Seasons Resort Palm Beach under Chef Hubert Des Marias. This led to other positions within the Marriott Corporation, such as the Marriott Tyson Corner Virginia, and the Five Star/Five Diamond Resort Ritz Carlton Reynolds Plantation in Georgia. At the Ritz, he had the privilege to work under chef and mentor Executive Chef John Johnstone, who is an honored ACF Certified Master Chef. 
Even though Chef Chris enjoyed the experiences as a hotel chef, his drive for more sales experience led him into the specialty food business in Atlanta, Georgia. He was promoted from Territory Sales Manager to Regional Sales Manager which broadened his distribution experience. Chris's ultimate goal was to be a Corporate Chef, which he has accomplished. He loves the challenges, the ever-changing market, interacting with new and prospective customers, and supporting a great sales team. 
Chef Chris had the privilege and honor to serve under his mentor Chef John Johnstone and Roberto Bustillo one more time along with Ritz Carlton Reynolds Plantation colleagues to co-chef at the 2016 Masters Golf Tournament in Augusta, Georgia. He has been invited to return in 2017. Next he's excited about serving as a 2017 Markon Chef and fulfilling more culinary goals.