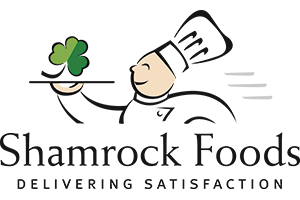 Shamrock Foods Company's Initiatives
Shamrock Foods Company recognizes its responsibility to this and future generations and is committed to sustainable practices with emphasis on the most significant impacts to the environment, its community, its customers, and our associates. As such, Shamrock is committed to integrating the objectives of sustainable development, i.e., economic growth, social development, environmental protection, and institutional planning, into our current operations and future development strategies. Shamrock believes that by committing to this sustainable endeavor, it will utilize and sustain the planet's finite natural resources to meet the needs of the present without compromising the needs of future generations.
Shamrock Foods Company includes Shamrock Foods, the seventh largest foodservice distributor nationally and Shamrock Farms, the largest dairy in the Southwest. As such, Shamrock recognizes that its operations do have an impact on the environment. The company's goal is to significantly reduce its environmental impact with specific measures in the following key areas.
Water Stewardship
Water is one of the planet's most precious resources and is becoming increasingly scarce. According to the United Nations 1997 projections, it is estimated that two-thirds of the world will not have enough fresh drinking water by 2025. In arid Arizona, where Shamrock is headquartered, the company expects to see a significant impact from the lack of water.
To help reduce water resource consumption, Shamrock has implemented the following:
Installed a wastewater treatment system to treat plant wastewater at its farm before it is discharged to the city treatment system. The solids removed from this system can be used to help fuel methane digestion to be used in electrical generation.

Implemented a storm water pollution prevention plan, which identifies specific, facility best-management practices to ensure appropriate chemical handling and storage, and appropriate discharge of storm water accumulation throughout its distribution facilities.

Reclaim and recycle 100 percent of all water used on the Shamrock farm for irrigation and other facility uses. At its dairy manufacturing facility, the cleaning waters and reverse osmosis water concentrates are recycled for multiple uses in several applications in the manufacturing process to minimize water usage and treatment required.

Audited all facilities for drips, leaks, and obvious waste.

Installed motion-activated water faucets in all bathroom facilities.
Energy Conservation
Conserving energy is one of the easiest and most effective ways to reduce a company's carbon footprint. To help conserve energy, Shamrock:
Installed high-efficiency boilers at its dairy manufacturing plant to reduce depletion of natural resources.

Uses a dairy manufacturing pasteurization system designed using regeneration to save BTUs (British Thermal Unit) from heating and cooling operations, thus reducing energy required for steam and ammonia cooling.

Replaced incandescent light bulbs with LED lighting or compact fluorescent light bulbs (CFLs). Use "smart" strip motion-activated sensors in most admin and support work areas.

Provides videoconference rooms linking all divisions and encourages use of the videoconference technology.

Regularly reminds associates about powering down office equipment at night, on weekends and/or on holidays.

Educates staff about "vampires" — appliances and technology using energy just by staying plugged in even when not in regular use.

Provides dedicated "space for green products/booths" at food shows. Feature products, information, and inspiration.

Sells non-foods products that offer the latest in Energy Star-rated appliances, energy-saving lighting, and many "green" products.

Offers vendors the opportunity to feature/sell Shamrock environmentally responsible concept products and equipment.

Replaced all office computer monitors with more efficient and eco-friendly LEDs.
Transportation Alternatives
The price of oil is continuing to rise with no end in sight. Perhaps more disturbing, the oil-industry estimates there is only approximately 34 years of fossil fuels left before running out of this non-renewable natural resource.
Shamrock does its best to conserve fuel with programs designed to reduce drive time and distances as well as programs dedicated to maximizing all resources associated with transportation. These programs include:
The usage of truck engines that are clean-idle certified.

The use of new idle timers in its entire fleet so that truck engines shut off automatically after five minutes of idle time to minimize excess fuel usage.

Utilizing truck routing software that minimizes miles per case delivered.

Replacing all milk tankers with newer, lighter material tankers for more fuel efficiency.

Keeping truck tires at optimal air pressure.

Sending used tires back to the manufacturer for recycling and safe disposal.

Recycling batteries and oil.

Using bio-based lubricants where possible.

Purchasing delivery trucks equipped with auxiliary power units so the main engine does not have to run to keep drivers warm or cool at night.

Encouraging and rewarding use of compressed workweeks for all associates.

Providing covered motorcycle parking to reward and encourage riders.

All new trailers are equipped with bioelectric refrigeration units, allowing the trailers to run on more efficient "shore power" when at dock doors.
Company Best Practices
The sustainability movement is diverse with an estimated 100,000 plus organizations in the United States alone. It's clear that every individual has the ability and opportunity to contribute to environmental solutions rather than waiting for someone else to deliver the answer.
At Shamrock, it's more than modifying daily business routines. The company has adopted best practices for sustainability, which include:
Advertising "green" efforts via an employee newsletter, Shamrock News, and in HR payroll stuffers.

Offering a rideshare/car-pooling program to encourage associates and rewarding those that take advantage of the program with prizes and cash awards.

Creating a Sustainability Task Force to drive and coordinate all sustainability efforts.

Benchmarking and documenting (from the associate level) specific/individual health goals and accomplishments with the help of an outside health care provider.

Hosting monthly environmental, health, and safety training sessions to review audits and to promote environmentally sound practices, reduce employee accidents and incidents, and to increase employee safety awareness.

Ensuring Shamrock partners with contractors who also share the company's commitment to quality service and adherence to regulatory compliance through the contractor safety policy.

Donating food to area food banks and more than 100 nonprofit organizations.
Waste Reduction/Pollution Prevention
It has been estimated that today's world population has the same environmental impact on the planet in minutes as our ancestors did in hundreds of years. With this in mind, it's critical to be aware of and reduce general waste and pollution.
Through simple changes, Shamrock has been able to drastically reduce its use of natural resources and waste/pollution output. Waste reduction efforts include:
Water purifiers installed in break rooms to encourage associates to drink purified tap water versus bottled water.

Implementing companywide recycling receptacles for paper, glass, and plastic.

Encouraging the use of double-sided photocopies and use recycled paper for printing.

Recycling all cardboard, paper, plastics, computers, metals, and glass at distribution facilities.

Switching to chlorine-free and low- or non-toxic janitorial supplies via thePantheon Chemical.  

Regularly re-routing delivery trucks to decrease mileage and reduce greenhouse gases.

Automatic paper towel dispensers were installed for portion control and less waste.

Reconditioning and reusing warehouse-shipping pallets.

Implementing process safety management and risk management program plans developed to ensure the safe and proper use of ammonia refrigeration systems.

Implementing spill prevention control and countermeasure plans, which aid in the preparation and response in the event of a chemical release or spill.

Reducing, appropriately disposing, and reporting on hazardous waste.

Recycling used vegetable/cooking oil via our oil-repacking facility.

Implementing practices that eliminate supply chain inefficiencies (e.g., leveraged purchasing and commodity monitoring).

Utilizing a hazardous materials inventory service, which includes facility chemical inventory, material safety data sheet acquisition and book creation, chemical inventory reporting to regulatory agencies and emergency services, regulatory roadmap creation which identifies specific facility federal, state, and local regulatory compliance requirements.

Adhering to air and water quality permits to ensure federal, state, and local compliance.
Sustainable Products and Packaging
There is a recognized shift taking place whereby consumers are seeking out sustainable products and packaging. Known as Cultural Creatives or Lifestyles of Health and Sustainability (LOHAS), this group will spend an estimated $500 billion in the next year supporting sustainable companies and their products.
Shamrock has long been committed to bringing innovation to its packaging and products, and recognizes that the next wave of innovation relates to sustainability. Included in this commitment is the following:
Use packaging made with 100 percent recyclable materials that meet governmental recycling legislation. The two primary sources of our plastic packaging are No. 5 Polypropylene resin and No. 2 High Density Polyethylene (HDPE).
Bundle and recycle corrugated materials used in the dairy manufacturing process.
Limit use of corrugated shipping case materials to corrugated pads and shrink wrap.

Offer disposable containers and cups made with NatureWorks, a product made of corn that biodegrades more quickly.

Offer biodegradable utensils called Enviroware from Dispoz-O.

Offer wild-caught frozen and fresh seafood from fisheries/vendors that meet the standards of the Marine Stewardship Council.

Offer Fair Trade-certified products in one or more categories: coffee, tea, cocoa, sugar, rice, and bananas.

Find local suppliers (defined as within the county, state, or Southwest).

Work with major equipment suppliers to offer more energy-efficient equipment to customers.

Work with individual suppliers to explore "green" key product lines (e.g., fresh produce grown with pesticide or water use below industry averages).
Future Opportunities
Looking to the future, Shamrock is committed to regularly exploring opportunities to employ additional environmentally responsible actions/programs. Some of the opportunities currently being explored include:
Installing a methane digester at the farm in order to reduce the methane gas emissions and self-generate electricity as a by-product.

Converting a portion of distribution fleet to B20 biodiesel.

Purchasing and testing more energy-efficient cars for company vehicles (electric and hybrid).
Shamrock associates are a driving force behind its commitment to sustainability. An associate-run Sustainability Task Force is responsible for identifying key areas requiring attention. This task force, comprised of members from all divisions and various departments, works together to identify creative solutions and new opportunities to enhance sustainable practices at Shamrock Foods Company.